Doctor's offices, hospitals, outpatient facilities, medical laboratory and nursing care facilities all need trained employees who know how to handle records, assist patients, and help doctors and nurses provide excellent care and service to patients.
Patient Care Technician training will set you on track for a rewarding career. You'll be a part of the day-to-day bustle of a busy hospital, doctor's office or long-term care facility, and play an important role in the lives of the patients you care for. As a Patient Care Tech you'll be in high demand, with many job opportunities available all over the country.
Why Become A Patient Care Technician?
You'll work full or part time in a medical facility
Many available jobs & career opportunities are available
You'll make a difference in patient lives every day
As a Patient Care Tech, What Will You Do?
Collect urine and blood samples for analysis
Set up and maintain medical equipment
Monitor health conditions of patients
Record important information related to treatment & medical history for patients
Take blood pressure readings and temperature, noting any important changes
Assist patients with personal hygiene, bathing, dressing, eating, and other daily tasks when required
Assist patients perform exercises, body movements, and help position them comfortably
Patient Care Technician Training: What You Will Study
Anatomy and physiology
Vital signs
Phlebotomy & EKG
Medical Terminology
Patient care skills
Administrative skills
Preparing patients for treatment
Drawing & collecting blood/urine specimens for analysis
Advanced laboratory & clinical skills
Certified Nurse Aide (C.N.A.) skills
Where Do Patient Care Technicians Work?
As a Patient Care Tech, you'll be able to work in many different types of medical facilities, including:
Hospitals
Doctor's offices
Medical laboratories
Urgent care clinics
Rehabilitation centers
Nursing homes & long term care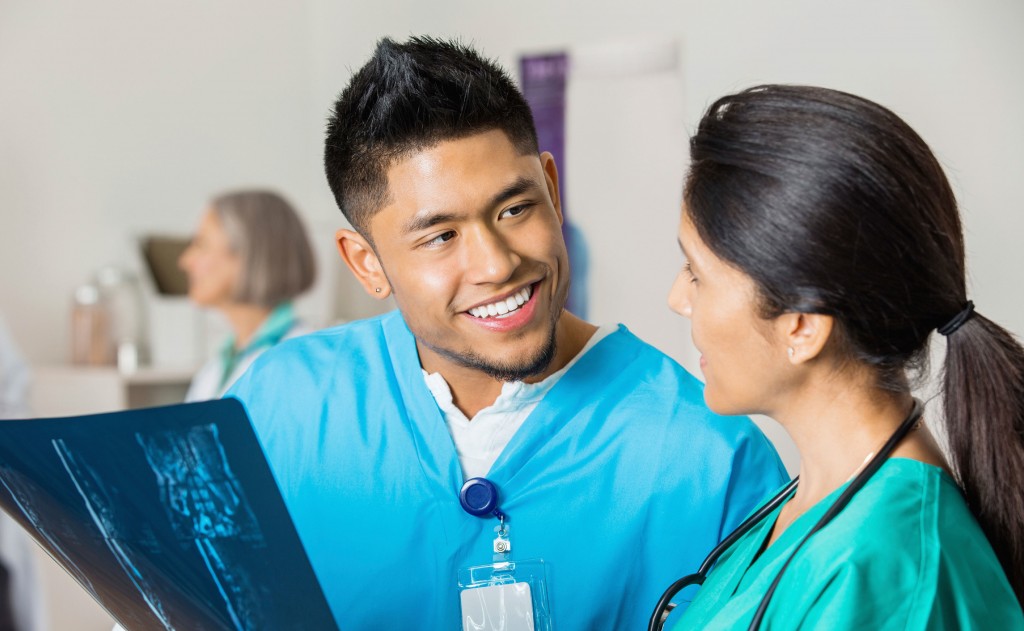 Patient Care Tech Salary & Job Prospects
What kinds of salaries do Patient Care Technicians receive?
The employment outlook for Patient Care Technicians is a positive one. According to the Bureau of Labor Statistics, employment of Patient Care Technicians is expected to grow rapidly in the next few years. The occupation is listed as one of the U.S. Department of Labor's "Bright Outlook" occupations.
The following three job search websites show average salaries for Patient Care Technicians:
Indeed.com – $36,000
CareerBuilder – $29,090
SimplyHired – $35,000
Patient Care Tech vs. Certified Nurse Aide (C.N.A.)
Many students wonder whether they should choose a Patient Care Technician program or a Certified Nurse Aide program. Although Certified Nurse Aide is a shorter program—2 months long, a longer program such as Patient Care Technician may offer more career benefits. We ask students to consider where they would like to work as well, as Patient Care Technicians and Certified Nurse Aides find work in very different settings.
Certified Nurse Aide Skills:

Communication and interpersonal skills
Infection control
Promoting residents independence and respecting residents rights
Safety/emergency procedures, including the Heimlich maneuver.
Dressing, bathing and skin care
Bowel and bladder care
Mouth and hair care
Feeding patients
Making beds
Toileting assistance and catheter care
Taking vital signs (blood pressure, pulse, etc)
Helping patients walk & assisting with range-of-motion exercises
Turning and positioning bedridden patients regularly
Safety awareness
Observing, reporting and documentation, & reporting all changes to the nurse
Post-mortem care
The C.N.A. program is a very short-term program (2 to 3 months long) where you prepare to work at a nursing home or long-term care facility, doing feeding, bathing, linens, trash removal, and other similar tasks.
Patient Care Tech Skills:
Performing emergency room skills
Preparing patients for physical exams
Taking patient vital signs (weight, blood pressure)
Conducting routine office-lab procedures
Drawing blood
Carrying out clinical procedures
Assisting in minor surgery procedures
Managing wound care
Administering ECGs
Although Patient Care Tech is a longer program (approximately 1 year), PCTs gain more experience in the field and have different opportunities to work in many more kinds of medical settings, i.e. hospitals, emergency rooms, urgent care clinics, etc. They work alongside the team that directly provides care for patients—including nurses, doctors, and other health care professionals.
Future Career Prospects for Patient Care Techs
After you complete a PCT program, you can then work towards becoming a Surgical Tech, LPN, or ultrasound tech—it is the stepping-stone to a great career!
How To Start Your Patient Care Technician Career?
Apply Now or give us a call at (908) 851-7711 to begin!